Convert Your Microfilm and Microfiche to Digital!
Microfilm and Microfiche were at one time the best options for backing up critical data, accessing information and reducing the need for paper file storage. However, in the age of ever advancing digital technology, these microformats have proven to be obsolete. Image retrieval from microfilm and microfiche is very time consuming and requires bulky, out-dated readers to view. Plus, the film itself is vulnerable to decay and loss. Converting this legacy data to searchable digital files has tremendous benefits and is often a requirement for companies and government agencies.
Smooth Solutions has scanned hundreds of millions of images from microfilm and microfiche throughout our 25 year history. Film conversions take place at our secure, state-of-the-art micrographics laboratory in Lodi, NJ. We also offer on-site solutions, where we assemble a dedicated team and the necessary equipment to perform microfiche and microfilm scanning projects at our clients' locations.
No matter how much film-based media you have, we can capture the highest quality digital images along with accurate index information, at an affordable price. Our unique experience, specialized equipment and proven imaging process will accommodate all of your microfilm and microfiche conversion needs on time and within budget.
Microfilm Scanning Services
Our state of the art microfilm conversion scanners can digitize all types of microfilm including 16mm, 35mm & 105mm rolls or cartridges. Our experienced scanning technicians and quality assurance procedures ensure that our clients receive the highest quality image output.
Microfilm can be scanned as black & white or greyscale images. Image format options include TIFF, JPEG, GIF, JIF, PDF, Searchable PDF & more. All microfilm is handled with the utmost care and precision in accordance with our production policies. Our goal is to convert your microfilm at the highest possible quality at a cost-effective rate.
Microfiche Scanning Services
Microfiche conversion to digital is similar to microfilm scanning because both are photographic reproductions and output is similar. Our microfiche scanners can capture images from 16mm, 35mm and 70mm microfiche, whether they are Step and Repeat, Jacketed, or COM (Computer Output Microfilm).
Depending on the quality of microfiche cards, we can typically scan over 1 million images per week. No matter how much microfiche you have, we will scan it at the highest quality; in a timely manner. Dealing with hard to find documents on bulky equipment that needs constant repair will be a thing of the past!
Why Digitize Microfilm & Microfiche?
Save time by reducing how long it takes to find documents, to then spend more time printing & distributing them.
Immediate Access to microfilm & microfiche data via an indexed and searchable electronic database.
Save Money on valuable time that employees spend on searching for, printing & distributing documents.
Save Space and reduce clutter by eliminating bulky microfilm readers and filing cabinets. Put new space to better use.
Backup and Protect important data from decay, misfiling and unforeseen disasters that can dismantle business operations.
Improve Customer Service with the ability to locate and share pertinent information quickly and easily.
Microfilm & Microfiche Scanning with Smooth Solutions
Trust in our experience – we've scanned tens of millions of microfilm & microfiche images across multiple industries
We have the capacity up to 1 million images per week at a high resolution
Easily find, share & distribute necessary images
Save time, money & space with newly digitized microfilm & microfiche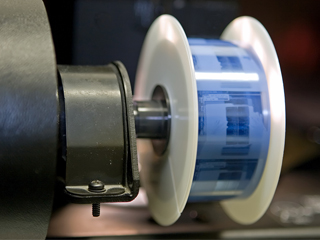 REQUEST A QUOTE
Why us ?

25+ Years
Of Experience

High quality document
scanning services of any format

No job too
big or small.

Onsite scanning
available