Convert Your Newspapers & Magazines to Digital Format!
Smooth Solutions offers a variety of solutions to scan your magazines & newspapers. We've scanned millions of pages throughout our company's history & will continue to digitize your newspapers & magazines.
Magazine & Newspaper Scanning
Magazine & newspaper conversion requires a special level of care because of type of paper used throughout the publications. Our staff is trained to handle these fragile documents with the utmost care. We ensure our scanning process is non-destructive, which guarantees the safety of your original documents.
Our scanners & technology enable us to create high quality images in either color or grayscale. We will also scan loose pages as well as bound newspaper & magazines.
Benefits of Newspaper & Magazine Scanning Services
By using our services you will be able to save space, time & money:
All of the valuable information in your newspapers and magazines can be scanned as searchable PDF's enabling you to reference all of the information quickly and effectively.
You will be able to find necessary information faster and you will be able to electronically distribute any of the information as well.
This gives you the ability to monetize previously written article online.
As an extra benefit you can archive or dispose of any paper copies of these documents that you have (if you want) in order to free up office space!
After our magazine & newspaper scanning process is complete, we will accurately index all of your files – this way they will be organized and ready for use at the drop of a hat.
Our Newspaper & Magazine Conversion Clients
Smooth Solutions has scanned magazines for some of the largest publishers in the world. Some of the publishers scanned include: Women's Wear Daily, Newsweek, Popular Photography, & Vanity Fair.
We have also scanned newspaper for libraries, historical societies, & local publishers.
Newspaper & Magazine Scanning with Smooth Solutions
Trust in our experience – we've scanned millions of magazine & newspaper pages
We can scan loose pages & bound magazines & newspapers
Images can be OCR'd & turned into searchable PDF's
Easily index digital files
Quickly search digital files & electronically distribute information
Save your company space, time & money
Receive high quality newspaper & magazine scans in color or grayscale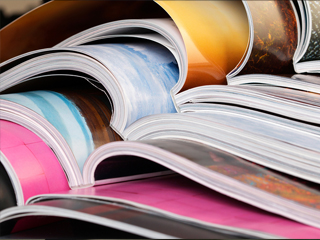 Why us ?

25+ Years
Of Experience

High quality document
scanning services of any format

No job too
big or small.

Onsite scanning
available