Medical Records Scanning
Smooth Solutions' medical records scanning service helps all medical professionals to manage and search patient information much more easily than with paper records. We convert paper documents for integration with Electronic Medical Record (EMR) and Electronic Health Record (EHR) systems. We can also scan files to bookmarked and OCR searchable PDF files.
Smooth Solutions has converted medical documents for a variety of private practices, hospitals and clinics over the past 25 years and counting. The digitizing of your patient records can be performed at our secure, HIPAA compliant facility in Lodi, NJ or on-site at your office.
Digitize Medical Records with Smooth Solutions
At our state-of-the-art, fully secured facility, we utilize a variety of high-speed sheet-fed scanners, photo scanners, x-ray scanners and flatbed scanners to complete the job. Our Dual-Stream Scanning capabilities offer significant benefits when dealing with multi-color forms, interspersed photos, EKGs, admission forms and lab results.
Imagine turning your entire Patient Chart Room into a digital storage device you can hold in your hand. Shelves upon shelves of paper Medical Records can be eliminated, stored digitally and made easily accessible.
HIPAA Compliant Document Scanning
Our facility is equipped with fire & burglar alarms, locked doors & tracked key card only access. 24/7 video surveillance ensures that only authorized personnel have access to confidential patient information. Our bonded employees are trained in HIPAA compliance and specialize in capturing the highest quality digital images of your medical records and charts.
Any document containing a patient name plus another one of the many potential identifiers such as social security number, date of birth or phone number is protected via HIPPA. And we at Smooth Solutions understand how important it is to keep all confidential information private.
Our Medical Records Scanning Process
Throughout our companies history we have perfected our process to ensure we offer the best solutions for our clients. Outlined below is our in-house scanning process; however, we also on-site scanning services if required.
Document Preparation for Sending: We will work with clients on a case by case basis to figure out how to give us your confidential documents whether it be one of our licensed and bonded drivers picking your boxes up or through certified, tracked mail.
Receipt of Documents: Once your document are safely at our facility we inventory all of your items and enter each box into our proprietary production system. This way they can be tracked throughout our entire scanning process.
Document Preparation for Scanning: To prepare documents for scanning we remove all staples, paper clips, and any other fasteners. Next we secure and ripped, torn or wrinkled page to ensure you receive the best digital copies of your medical records.
Document Scanning: We use a variety of different scanners to ensure all types of medical records, whether they be paper or special scans, are converted into the clearest possible digital scans.
Quality Review: After scanning is complete, we review each and every image for readability to make sure you have the clearest scan possible and that all medical records are still legible.
Record Indexing: After scanning we will index your files by patient name, ID number, date of birth, and other important information that can be used to retrieve patient data.
Integration: We work with your EMR or EHR system to ensure that scanned and indexed electronic medical records are integrated seamlessly ready for daily use.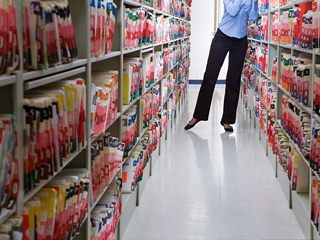 Why us ?

25+ Years
Of Experience

High quality document
scanning services of any format

No job too
big or small.

Onsite scanning
available