Medical Record Scanning Services
Smooth Solutions' medical record scanning service helps all medical professionals to manage and search patient information much more easily than with paper records. We digitize patient charts and other medical records for integration with Electronic Medical Record (EMR) and Electronic Health Record (EHR) systems. We can also scan files to bookmarked and OCR searchable PDF files.
Smooth Solutions has converted medical documents for a variety of private practices, hospitals and clinics over the past 25 years and counting. The digitization of your patient charts can be performed at our secure, HIPAA compliant facility in Lodi, NJ or on-site at your office.
Digitize Medical Records with Smooth Solutions
At our state-of-the-art, fully secured facility, we utilize a variety of high-speed sheet-fed scanners, photo scanners, x-ray scanners and flatbed scanners to complete the job. Our Dual-Stream Scanning capabilities offer significant benefits when dealing with multi-color forms, interspersed photos, EKGs, admission forms and lab results.
Electronic medical records are organized and formatted digitally to match their paper originals so they can be searched and accessed with ease. Not only can you search for specific patients by name, date of birth, ID number, etc., but each patient chart can be further organized by the type of document in their chart, dates of visits, tests or any other criteria that makes sense for your office.
Imagine having immediate, digital access to all of your patient chart files from a device you can hold in your hands. Shelves upon shelves of paper medical records can be eliminated, stored digitally and made easily accessible.
Benefits of Medical Record Scanning
Significantly reduce time spent looking for documents
Improved customer service and efficiency
More attention toward patient care and treatment
Reduce costs and increase productivity
Eliminate bulky cabinets for more profitable use of space
Reduce clutter and become more organized
Back up plan for disaster recovery or loss of medical charts
Peace of mind that essential data is protected & compliant
HIPAA Compliant Medical Record Scanning
Our facility is equipped with fire & burglar alarms, locked doors & tracked key card only access. 24/7 video surveillance ensures that only authorized personnel have access to confidential client information. Our employees are trained in HIPAA compliance and specialize in capturing the highest quality digital images of your medical records and charts.
All documents containing a patient name plus another one of the many potential identifiers such as social security number, date of birth or phone number is protected via HIPAA. Our entire staff is bonded and bound by blanket non-disclosure agreements. We understand how important it is to keep all confidential information private.
Our Medical Record Scanning Process
Throughout our company's history we have perfected our process to ensure we offer the best solutions for our clients. Outlined below is our in-house scanning process; however, we also perform on-site scanning services if required.
Document Preparation for Sending: All you have to do is box up your medical records and/or patient charts and we'll take care of the rest. One of our licensed and bonded drivers will pick up your boxes for safe transport to our facility.
Receipt of Documents: Once your records arrive at our facility, all items are inventoried and labelled. Each box bar-coded and entered into our proprietary production system. This way they can be tracked throughout our entire scanning process.
Document Preparation for Scanning: To prepare documents for scanning we remove all staples, paper clips, and any other fasteners. We also secure ripped or torn pages. Intelligent bar-coded separator sheets are inserted between document types and medical charts.
Document Scanning: We use a variety of high end scanners to ensure all medical records are scanned and converted into the clearest possible digital images.
Quality Review: After scanning is complete, we review each and every image for clarity and readability. Poor quality images are flagged and re-scanned to meet our standards.
Record Indexing: After scanning we will index your files by patient name, ID number, date of birth, and other important information that can be used to retrieve patient data.
Integration: We work with your EMR or EHR system to ensure that scanned and indexed electronic medical records are integrated seamlessly and ready for daily use.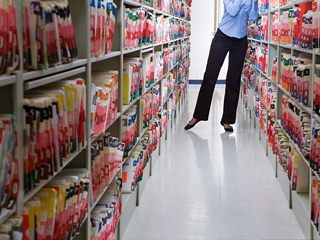 Why us ?

25+ Years
Of Experience

High quality document
scanning services of any format

No job too
big or small.

Onsite scanning
available